Dan's Sharpening Shop
Covid-19 update 7/15/20: Our sharpening shop remains closed due to the pandemic. We plan to reopen As soon as the state of Indiana enters stage 5 of reopening. The governor announced today another 2 week extension of stage 4.5. Thanks for your patience. We truly appreciate our loyal customers.
Hi, I'm Dan Hervey, owner/operator of Looking Sharp, Inc. Area hair stylists and animal groomers know me as their premier source for sales and restoration of professional hair cutting tools. Many other industries have entrusted me with sharpening their scissors and knives. I am grateful for the trust and loyalty of my large customer base.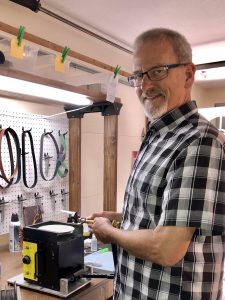 I am pleased to announce an exciting change to my business operations model. Although I have discontinued our mobile service, I will continue to provide the same top quality sales and service that my customers have come to expect in my home based walk in shop.

What we do: We specialize in the sales, sharpening and restoration of beauty shears. We sharpen hair clipper blades and large animal shearing blades.
We sharpen most other kinds of scissors, kitchen and sporting knives and many gardening tools.
Hair stylists can drop off and pick up shears for edge honing and polishing for $25.00 each. If using the mail please call for a quote which will include return shipping. Loaner shears can be provided on a limited basis for drop off customers. I highly recommend all customers have back up shears on hand, sharpened and ready for use while I am restoring your main shears. I have many excellent shears available for sale to fit your budget. Lifetime warranties.
Location: 1207 Center Street, Auburn, IN 46706
Phone: (260) 414-9023
Hours: M-F, 9:00 AM-5:00 PM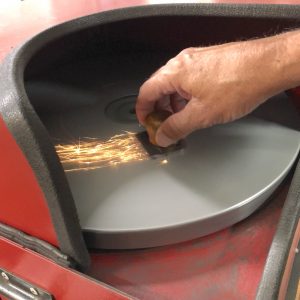 1207 Center St., Auburn, IN
Call (260) 414-9023
https://www.facebook.com/lookingsharpinc/